Tailored solutions for the automotive industry
Following the founding of the Automotive Alliance between Hennecke and FRIMO in early 2020, it is now time to look back and take stock of an eventful two years. Despite the backdrop of several global crises, the two companies have been able to develop a well-coordinated and solid partnership.
Consolidating core competences
The foundation stone of the Automotive Alliance was laid in February 2020, marking the start of the FRIMO-Hennecke collaboration which focuses on polyurethane and other reactive plastic applications for the automotive industry. In the partnership, FRIMO, a full-service supplier for tooling and automated production systems, contributes its core competences in the areas of molded foam, elastomers and composites. Hennecke is responsible for the metering and mixhead technology, including peripheral equipment and all other systems for handling the raw materials – storage, transportation, preparation and processing. FRIMO deals exclusively with the sale of HENNECKE products from the partnership, for new systems as well as for the entire service sector.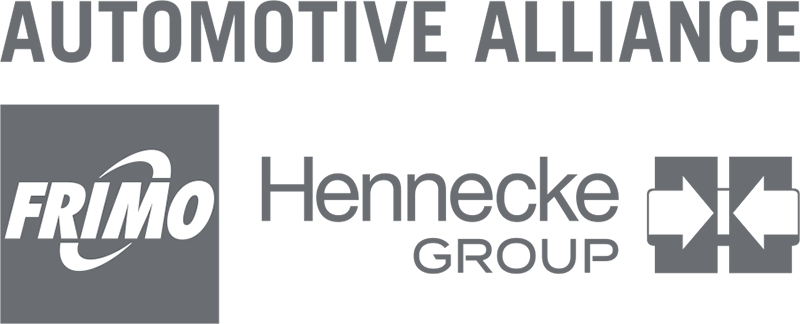 Added value for the industry
There are plenty of advantages for automotive customers – they benefit from comprehensive system solutions and individual service from one source, as well as a common point of contact. Another bonus point is the unified customer interface, ranging from tooling to plant automation up to process technology. The core segments of the partnership are the product areas molded foam processing, elastomer processing and lightweight composites, including PUR-CSM technology for polyurethane spray applications, as well as flood injection for structural and decorative components. Hennecke also supplies metering machines and mixheads for HP-RTM and WCM (wet compression molding) applications.
A flying start in turbulent times
A number of global crises began to overshadow the partnership immediately after its launch. Extensive lockdowns and plant closures, delayed deliveries and closed borders, an international shortage of semi-conductors, and energy shortfalls have all impacted the Automotive Alliance's principal target group and will continue to do so. "The shift towards electric vehicles also means that requirements have changed," says Thomas Joachim, Sales Director at FRIMO. "Due to cost-cutting, demand has fallen for back-foamed dashboards in light of the modified cockpit design, and for back-foamed arm rests and door panels." It is, however, precisely this trend towards e-vehicles that has also contributed to a change in customer demand, because electric cars often require different products to gasoline-powered vehicles – lightweight construction for example is fundamentally important. "Thanks to our unique production concepts in HP-RTM and WCM applications, extremely light structural components are increasingly becoming the focal point of our collaboration. Here we can already offer highly specialized solutions for the numerous enquiries we receive about particular areas of use or specific geometries. And what is more, flood injection technology provides the automotive industry with a multitude of new application options," explains Dr. Florentin Pottmeyer, Head of Sales for the Automotive Alliance at Hennecke.
A changing industry
"New products require new approaches. The new front module on fully electric cars – used in place of the previous radiator grill – is a good example of an element that most gasoline vehicles do not have," Thomas Joachim adds. "At the forefront here is the integration of the most diverse functions that are made possible through autonomous driving." PUR flood injection is used to securely and permanently protect this sensitive module, whilst also giving it a luxurious look. Flood injection technology offers not only a variety of application options but also a wealth of benefits compared to painting. Among other things, it is more versatile, more economic, kinder to the environment and produces significantly less waste. The front modules have already successfully gone into production, proving how quickly the offering can be adapted to meet new demands. (See the article on page 24 for more information).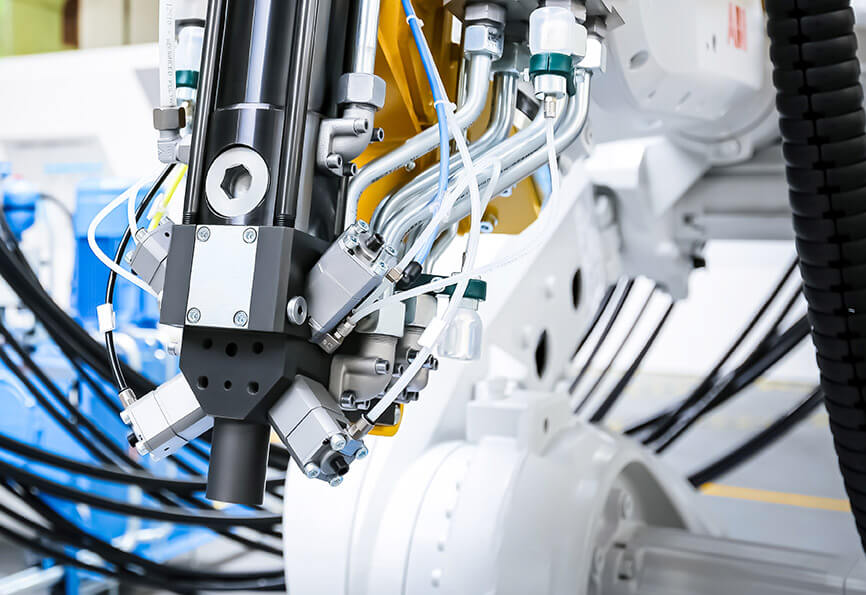 A perfect pairing for diverse applications inthe automotive industry: Four-component mixheadswith hermetically sealed FLEXJET GL injectors.
Safe protection for batteries
The battery is a crucial part of every electric car and must be well protected. Here the Automotive Alliance offers effective concepts for producing lightweight, robust and crash-proof enclosures for battery cells. Made using WCM or HP-RTM processes, they protect the sensitive energy packs. In addition, the partnership offers solutions for foaming cavities, known as gap fillers. There is also high demand for parts that protect the vehicle underbody. Here the partnership provides solutions either based on WCM technology, or combined with a PUR rigid foam application, in which individual reinforcements are made through PUR-CSM spraying.
Roof and floor solutions
The desire to reduce weight but maintain maximum load bearing capacity, along with design freedom, provide the background to creating innovative modules based on lightweight composites with a polyurethane matrix (PREG technology). Here both the module's facings are composed of a fiber composite material, spaced apart by a core made of paper honeycomb. These are used to produce extremely sturdy yet ultra-lightweight roof modules and load floors. Solutions have also been brought to market for multi-part hardtops, where the individual sections can be easily stored in the trunk or boot. "As a result of continual technological advancement, it is no longer difficult to make real threedimensional component parts," says Dr. Florentin Pottmeyer.
A positive future ahead
Thanks to its extensive portfolio and innovative solutions, the Automotive Alliance is weathering the current crises and adapting to the transforming automotive industry. Automotive customers know that they can rely on tailored system solutions from both specialists and reap the benefits of a comprehensive service from one single source.
---
Download - Issue 122 (PDF)
You will need Adobe® Reader® that you can download here for free.