Specialist in extraordinary solutions
What does a manufacturer of machinery for polyurethane processing in Sankt Augustin, Germany, have to do with growing fresh vegetables in Singapore? How are polyurethane parts used in vertical farming, the practice of growing vegetables in vertically stacked layers? A year ago, no-one at Hennecke GmbH, one of the global leaders in machinery and technology for polyurethane processing, would have been able to say.
Vertical greenhouses for a metropolis
Singapore is a small country near the equator, with a high population and building density. To become more food-secure and independent by growing more of its own food locally, research in Singapore is increasingly focusing on areas such as urban farming, growing crops in cities, and vertical farming, using vertically stacked layers for cultivation.
The company Keshet Agritech Pte Ltd, works in precisely this area, and is currently establishing automated, high-tech greenhouses known as 'vertical clean greenhouses' on its awarded five-acre land parcel in Singapore. These are not only home to the technology required for vertically stacking and maintaining the cultivation areas, but also protect the crops from adverse weather conditions. The fully insulated greenhouses will be fitted with solar panels and provide for a constant temperature, adapted to the respective plant species, ensuring the best possible conditions for growth. In the future, the fruit, vegetables and salad will be grown and harvested here on stacked layers, fully automated and largely self-sufficient.
From Singapore to Sankt Augustin
In early 2021, Dieter Müller, Sales Manager at Hennecke GmbH in Sankt Augustin, received an unusual request from Southeast Asia. The customer was looking for a way to externally insulate a prototype of the vertical clean greenhouse, and asked whether it was possible to produce a 2700 mm x 1600 mm sandwich panel with a stainless steel facing and a PUR core, a specific curvature and 100 mm wall thickness, whilst imposing high demands on the material properties, such as flammability, insulation and durability. Extraordinary specifications, but an exciting challenge for Dieter Müller, an expert with over 25 years' experience.
Pooling expertise at Hennecke's TECHCENTER
He took on the request, located the right manufacturer for the raw materials and supplied the customer with a molding tool from Hungary. Together with the customer and the raw material manufacturer, Hennecke's specialists set up a meeting at their TECHCENTER to carry out some initial trials. However, due to COVID travel restrictions, the customer was involved virtually. "Our technical center is the right place to test out and realize new solutions and applications," explains Müller. "The center is equipped with our company's latest state-of-the-art technology – here the customer benefits primarily from our application experts' cross-industry experience and specialist knowledge."
Systematic problem solving
The promising first trial run was a good indication of things to come: Expertise teamed with a systematic approach led to improvements in the molding tool, optimum filling and venting holes placed in the mold, and the right chemical formulation. The perfect result and a happy customer, who immediately ordered another 100 panels to set up the prototype for the fully automated vertical clean greenhouses.

Urban farming in a tropical metropolis: Fully-automated high-tech greenhouses are under construction for a five-acre land parcel in Singapore.
Presentation at the K Trade Fair
The first vertical greenhouse will be installed in Singapore whilst the K Trade Fair is running in Düsseldorf, Germany in 2022. The systems technology for the upcoming serial production of the greenhouses can then be manufactured in Sankt Augustin. It consists of two reaction casting machines, two semi-automatic shuttle presses and two molds, and will produce the panels at a rate of around ten per hour. Dieter Müller is delighted. "Not only have we fulfilled a new and exciting order, but we've also proven our expertise once again with the TECHCENTER. And last but not least," he says, "we are proud to be making a small contribution to a big goal."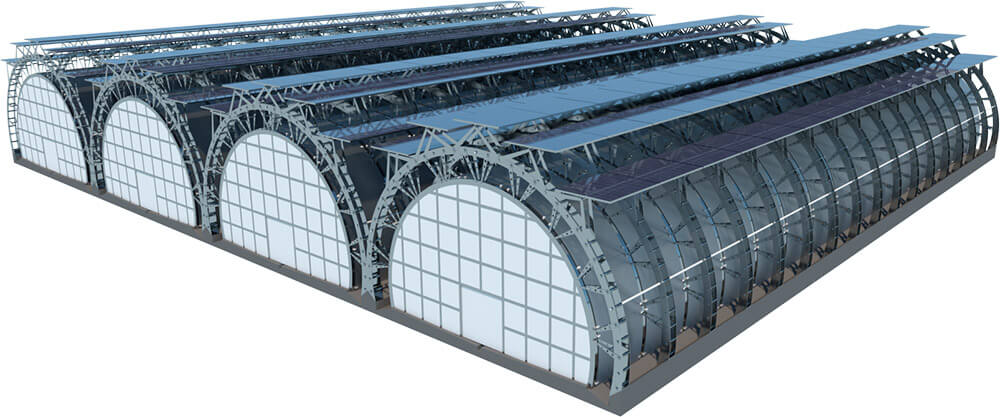 The curved sandwich panels fit perfectly on the vertical greenhouses, protecting the plants from external light and varying temperatures.
---
Download - Issue 122 (PDF)
You will need Adobe® Reader® that you can download here for free.