Protected through CLEARMELT technology
The distinctive, kidney-shaped front module on the all-electric BMW iX is both an iconic design motif and a guaranteed eye-catcher. It is also a leader in innovation as the first serial application for vehicle exteriors to use an integrated process combining polycarbonate back-molding injection with polyurethane flood injection. A clearly visible outcome of the successful partnership between Hennecke and the Austrian machine manufacturer Engel.
The kidney grille is the classic design feature of all BMW models. At first just a radiator grill, today it houses and protects the cameras and sensors for the electronic assistance systems, which are already making semi-autonomous driving possible. The extended functionality of this front module required fundamental changes to both its structure and production process.
Trailblazing customized solutions
Hennecke experts have been working since 2009 with Engel, the Austrian injection molding machine specialists, on developing innovative solutions for new applications. Engel acts here as an experienced prime contractor, relying on Hennecke's expertise for aspects involving the integration of specific polyurethane applications. The combined process of polycarbonate injection molding with polyurethane finishing through flood injection is one of the focal points of the collaboration. This technology, known as clearmelt, offers users an effective plant concept for finishing thermoplastic substrates using a coating of transparent or colored polyurethane or polyurea systems in the RIM process (reaction injection molding). This method is used to create scratchproof, resistant and functional surface structures for decorative and functional parts in the automotive industry and consumer goods sector.
At the end of 2018, Hennecke received an enquiry about the BMW project from its long-standing partner in Austria: A solution was required at BMW's Landshut plant for mass-producing the kidney-shaped front module with its new requirements. The clearmelt technology had already been tested by the two companies and was to be used here for the first time in mass production for exteriors, a sector with very high demands. Together with raw material suppliers, toolmakers, and clean room specialists, the partners developed a customized solution to meet the Bavarian car manufacturer's requirements.
Combined process with injection molding and PUR
Using an integrated process in a clean room, a heated functional film is back-molded with polycarbonate, flood injected with polyurethane and securely packaged straight away for further processing. "Extra finishing work is not required with this combined process," says Eugen Kern, Sales Manager for Composites & Advanced Applications at Hennecke. The PUR coating has two functions: it provides not only brilliant optics but also highly effective protection. Thanks to its material properties, the coating is not just extremely scratchproof; it even has a self-healing effect that compensates for minor dents and scratches. As the front modules on passenger cars are especially prone to stone chip damage, the coating crucially ensures that the front of the car does not lose its flawless appearance after so many miles on the road.
The iconic kidney grille for the iX is manufactured at the BMW plant in Landshut, Germany
PUR flood injection replaces painting
Compared to conventional paint finishes, flood injection with PUR offers many advantages besides great scratch resistance: the transparency ensures clear visibility at all times for the sensitive sensor technology. The surface is extremely glossy with a depth effect, which accentuates the overall appearance of luxury. In addition, the PUR flood injection allows different surface structures and thicknesses to be applied in a single piece. This means that a product's top layer can seamlessly change from a glossy, smooth surface with depth effect to a rough, leathery texture, for example. "The PUR solution is also superior to classic painting in terms of sustainability," says Eugen Kern. Whereas painting causes overspray, PUR flood injection uses the exact amount required, so there is no waste.
"It was fantastic working together with all the companies involved," says Eugen Kern, who anticipates further collaborative projects for Hennecke in the future. BMW, as a trailblazer for technology, has created a sensation with the iX and in doing so, has boosted the application options for the clearmelt process. The sales engineer is convinced of the amazing advantages of this technology. "I am sure it will catch on across the board," he says.
As well as the effective clearmelt technology, Hennecke provides further solutions for producing parts with high-quality, functional surfaces for applications in the automotive industry. These are sold through the strategic AUTOMOTIVE ALLIANCE partnership, established in 2020. Find out more about this on the next page.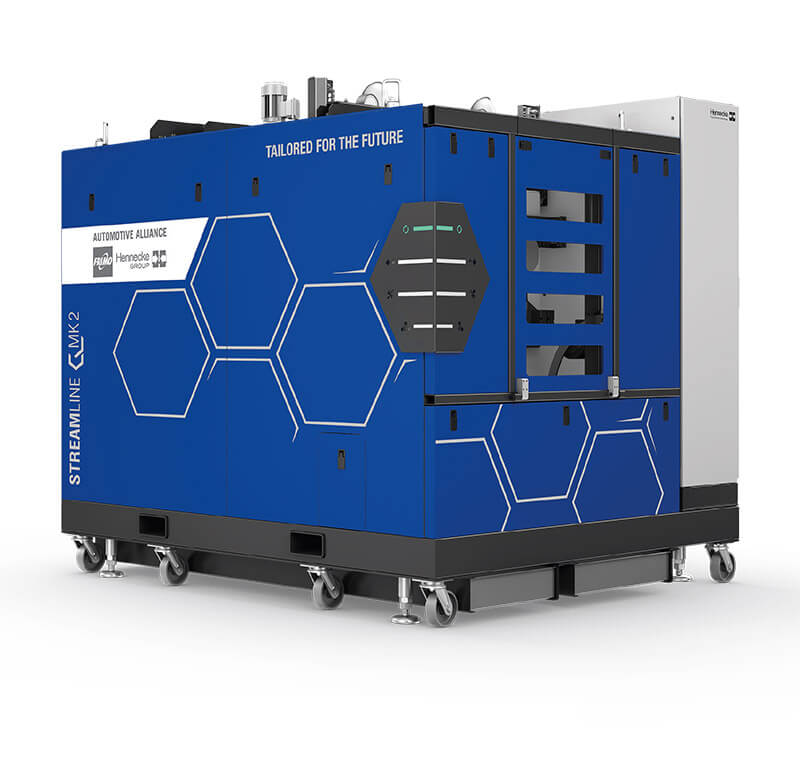 The STREAMLINE MK2 is a tailor-made processing system for realizing transparent and highly resistant polyurethane coatings.
---
Download - Issue 122 (PDF)
You will need Adobe® Reader® that you can download here for free.