Next generation machines
Metering on a whole new level
Under the name 'MK2', Hennecke is bringing a new generation of high-pressure metering machines from its core portfolio to the market. This is not just about making tweaks or modifications. On the contrary, the globally established ECOPLUS, HIGHLINE and TOPLINE products have been completely revamped and redeveloped, with a focus on energy efficiency, sustainability, productivity and digitalization. As well as adding to the names, Hennecke is introducing this new, defining advancement for an entire product line as 'Next Generation Metering'. The name says it all.
New paths in production
The 'Next Generation' is the successful outcome of a long process that goes far beyond the processing machines themselves. It all began with a step-by-step, resolute rollout of Kaizen projects across the entire Hennecke GROUP. The methodological approach behind the term Kaizen places the pursuit of continuous improvement at the heart of work philosophy. From this emerged the Hennecke Production System (HPS) which aims to ensure a sustainable and successful future for the Hennecke GROUP's international production sites through an effective combination of appropriate procedures and design principles. As a consequence, the HPS is a variant of different lean production systems, fully tailored to Hennecke. The main added-value of the HPS lies in the interlinking of the different production areas, which allows for a synchronized, waste-free production that is aligned with customer demand. This includes reducing stocks and wait times whilst maximizing quality and on-time delivery. "It is important to note that this development was not a oneoff challenge for us," explains Svend Weidemann, President BU Germany. "We are constantly reviewing, developing and optimizing our products and our processes."
The advantages of standardization
With over 75 years' expertise in polyurethane processing, Hennecke now has an extensive product portfolio, and, as a specialist in PUR machine construction, offers customized solutions in an array of different areas and sectors. Hennecke's in-depth knowledge of both the market and its customer needs led the company to re-examine its high-pressure metering machines from different perspectives. But for the 'Next Generation' it wasn't just about typical factors like investment cost, productivity and cost of sales. A lot more consideration was paid to future-relevant aspects. How much energy is required? How sustainable is the product? How much floor space is needed? How can we harness big data through digitalization? What happens at the end of the product's life cycle? These are issues that place customer value in the foreground and are more vital today than ever before. Rather than providing a bespoke approach, the main goal of the redevelopment was to offer pre-configured solutions which would meet the majority of market demands. These new standards can be customized through a number of optional modules, offering the customer major benefits: faster production, shorter lead times, reduced costs and a more simplified process – from machine selection right through to commissioning. The new management systems have led to noticeable improvements here. In the rare case that the options on offer are insufficient for specific production scenarios, Hennecke remains open to tailored solutions. Customers still benefit from the global market leader's full spectrum, even for complex applications or challenging raw material systems. This applies in particular to the upcoming TOPLINE MK2.
Next Generation – developed for the future
Rather than giving the existing high-pressure machines a simple overhaul, Hennecke has engineered a completely new machine generation. This is reason enough for adapting the name. MK2, meaning mark 2, is a clearly structured nomenclature that documents the major development of a new product generation without changing the renowned brand names. "This means that, on the one hand, we are retaining the names ECOPLUS, HIGHLINE and TOPLINE, well-established on the market for decades, and, on the other hand, by making an addition to the name, we are clearly demonstrating their extensive upgrade," says Torsten Spiller, Marketing & Communications Director.
"For Hennecke, the new generation represents another milestone moving forwards."
Jens Winiarz,
Senior Sales Director at Hennecke
The ECOPLUS MK2, an entry-level model, has already been on the market since July 2022. "On 1 January 2023 we will bring out the highly efficient, multi-talented HIGHLINE MK2, followed by the TOPLINE MK2 in July 2023 as the flagship, high-pressure machine that meets the toughest demands," promises Jens Winiarz, Senior Sales Director at Hennecke. The launch of the new generation also marks the end of a successful era for Hennecke. For production reasons, the previous model generations for the three-machine series are gradually being discontinued, starting with the ECOPLUS.
Effective savings thanks to Blue Intelligence
Hennecke's first-class, high-quality equipment is the common denominator between all the models. For example, the new HX metering pumps, a state-of-the-art and revolutionary in-house development by the company (see also the report on page 12). The machines are operated using the newly developed FOAMATIC, an innovative and forward-looking control platform based on the latest SIMATIC components, bringing the control system, user interface and data analysis to the next level. Customers will also be impressed by the optimized component parts in the metering lines, a standard feature in all Next Generation machines. The series of mixheads available are top class: manufactured in-house with great precision using high-strength steel and an innovative surface coating, they combine optimal functioning with a long service life. First-class product results can be expected thanks to the enhanced mixhead chamber design and highly efficient static FIXJET or constant pressure FLEXJET SL injectors. The intelligent machine design and modular construction make servicing and maintenance straightforward. Each next generation machine features Hennecke's 'Blue Intelligence' as a standard technology package. This encompasses all types of resource-saving interventions together with smart digitalization. Including, for example, an intelligent temperature control system and efficient stand-by mode. The combination of these measures effectively supports energy and material savings. Likewise, proactively monitoring the relevant component parts ensures a safe-running production process without interruption.
Customer-friendly pricing and sales structure
The pricing has also been reworked. Standardizing the models and modules enables a new pricing structure with fixed prices worldwide. Individual modules or an entire package of options can be added to meet specific requirements, like for example the Efficient Temperature Concept which comprises four different elements. For the customer, this makes the selection and ordering process not only clearer, but noticeably easier and quicker. For the ECOPLUS MK2 which is already on the market, it also results in a significantly lower starter price. Even at a time when competitors' prices are going in the other direction. "For the near future, we are also developing a machine configurator on a separate B2B platform," explains Jens Winiarz. Similar to a car configurator, the selected model can be adapted to match the customer's specific requirements. Starting with one of the three models, the order can be tailored to the customer's own production processes with a variety of optional modules or a ready-made package of options.
Success all round
"For Hennecke, the new generation represents another milestone moving forwards and will reinforce our position as global market leader," assures Jens Winiarz. "Here our company combines decades of expertise in polyurethane processing with focused market intelligence." Driven by sheer determination to continuously improve itself and its products, Hennecke is reaching new heights. The customer benefits from this process, counting as before on extremely reliable and durable machine technology, but still gaining a huge performance plus with the Next Generation machines. And all this at an attractive price, with faster lead times and smart technology that saves energy, raw materials and costs.
CLEAR BENEFITS FOR CUSTOMERS
Satisfying all demands: From the entry-level machine for high-pressure metering up to the multi-functional all-rounder – with the three models in its Next Generation lineup, Hennecke has the perfect machine for every customer.

Faster production and lead times: Order to delivery times are significantly shorter thanks to innovative engineering, a considerably enhanced assembly line, utilization of common parts, and optimized supply chains.

Blue Intelligence: A sophisticated and customized set of measures combining resource efficiency and digitalization. Not just smart and sustainable, but also permanently reduces production costs.

Long product service life: Quality lasts and pays off in the long-term. Many of Hennecke's machines are still operating trouble-free decades later.

HX pump technology: The first metering pumps designed specifically for PUR applications are precise, efficient and fit for the future.

Intelligent control system: The innovative FOAMATIC control system is based on the latest generation SIMATIC components and, together with a premium HMI and high-performance SPS, offers a completely new and intuitive user interface. The operator can be sure of maximum performance and fast access for the widest range of applications. As a global player, Hennecke understands the needs of local customers in its target markets and has ensured that the FOAMATIC can be used with different platforms. In future, it will also be available with Allen Bradley (Rockwell) and MELSEC (Mitsubishi) platforms for specific markets.

World-class quality guaranteed: In 2022 Hennecke was recognized as global market leader for the third time by the German magazine Wirtschaftswoche. Decades of experience as PUR market leader safeguards the quality of the wet parts, manufactured entirely at the company headquarters.
---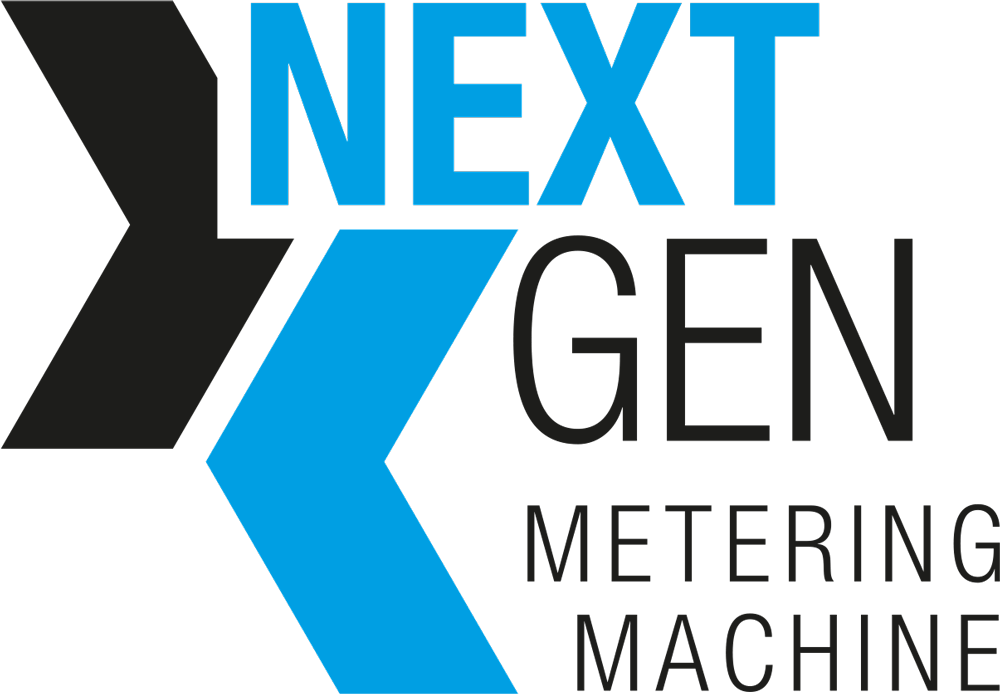 ECOPLUS MK2
The entry-level model wins over customers with its shorter lead times, an attractive purchase price that even undercuts the previous version, an innovative concept for temperature control and high-quality components throughout. Like all the models, the ECOPLUS MK2 capitalizes on the new HX metering pumps and features the established MT-E mixhead series with the latest generation of injectors – the FIXJET and FLEXJET SL models. The machines are controlled via the brand new, innovative FOAMATIC operating system that even allows optional remote access from multiple network-compatible end devices simultaneously. A novelty in this product category.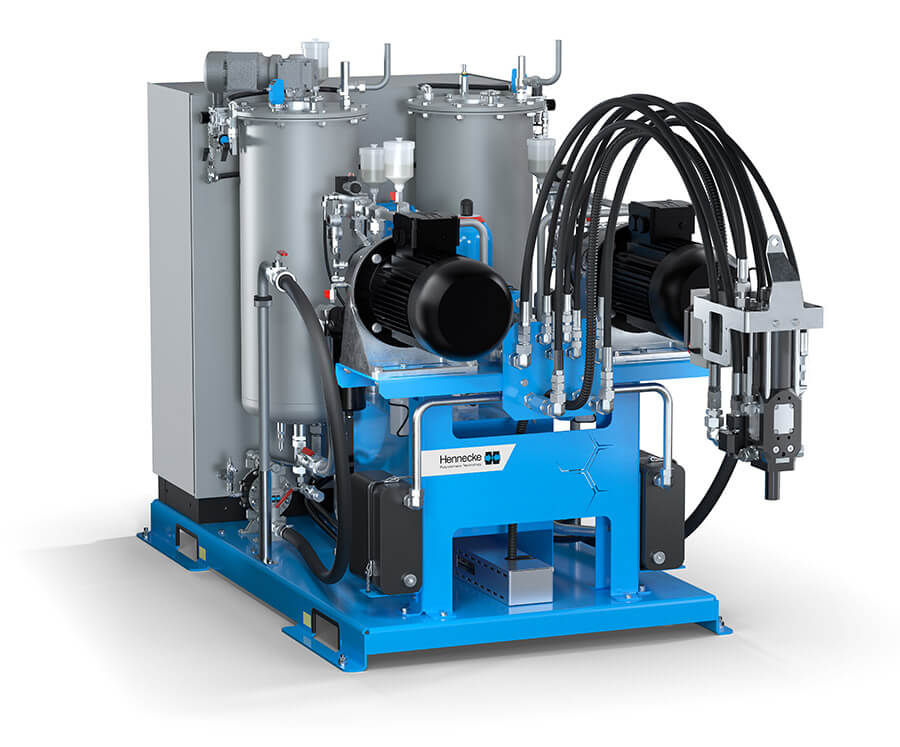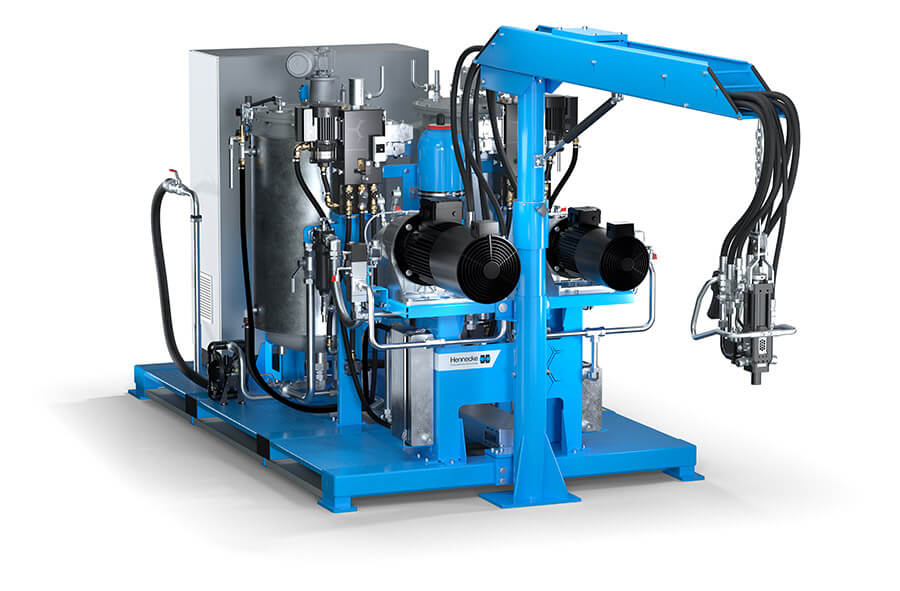 HIGHLINE MK2
This new, multi-functional model provides a seamless transition to a high-performance machine. It can be extended to a two-mixhead system and processes virtually all raw material systems, including the modern (flammable and non-flammable) blowing agent hydrofluorolefin (HFO). Suitable for the usual wide range of PUR flexible foam applications, the machine is also ideal for insulation applications and can be customized through a number of configurable options. Digitalization and connectivity to the Internet of Things (IoT) benefits the user in terms of energy and resource efficiency, predictive maintenance, and production monitoring.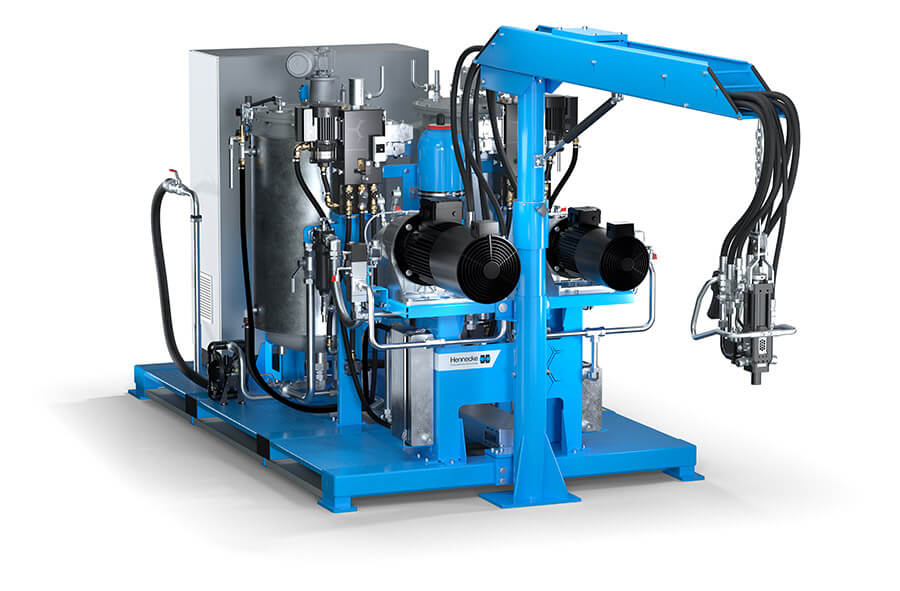 TOPLINE MK2
Hennecke's flagship product is and remains the reference point for nearly all PUR applications, meeting the toughest of demands. Besides Hennecke's latest technology, the top priority here is digitalization, as well as IoT connectivity. The TOPLINE MK2 is fully integrable. Thanks to its modular construction, the machine offers considerable long-term flexibility, for example expanding production or combining with other production lines in the future. For the time being, Hennecke is not revealing any further details about the top category in polyurethane processing and centerpiece of thousands of production lines. Customers are looking forward to finding out what performance features they can expect from July 2023 onwards.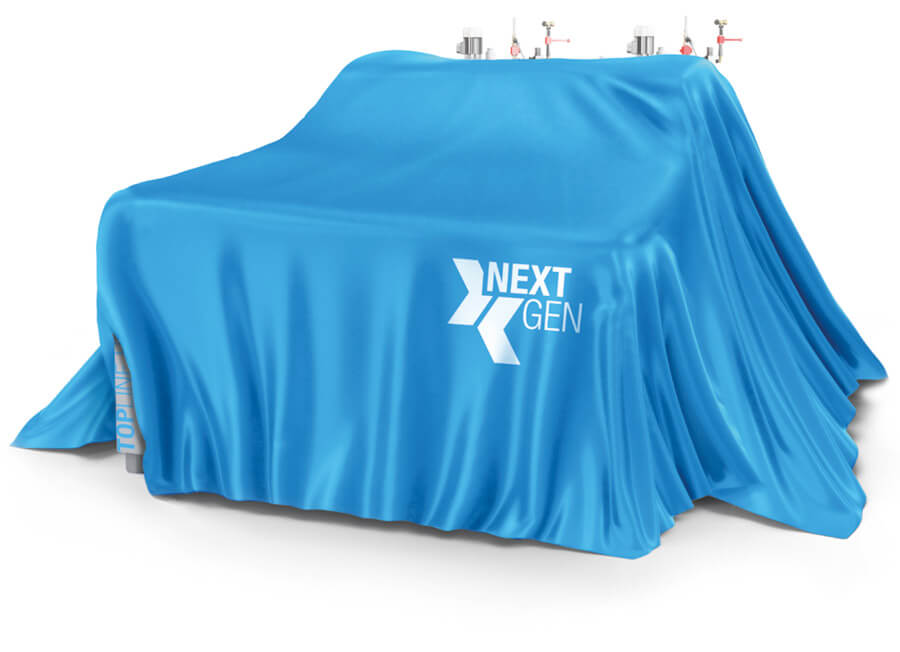 ---
Download - Issue 122 (PDF)
You will need Adobe® Reader® that you can download here for free.