Living sustainability for 75 years
There are several reasons why sustainability is one of the prevailing hot topics in the PUR sector and at the K Trade Fair 2022. Environmental and climate protection have long been prompting companies to find new solutions, and the rising CO2 tax is also playing its part. But it is the current geopolitical events and subsequent energy crisis in particular that are bringing a new impetus and dynamic to the industry.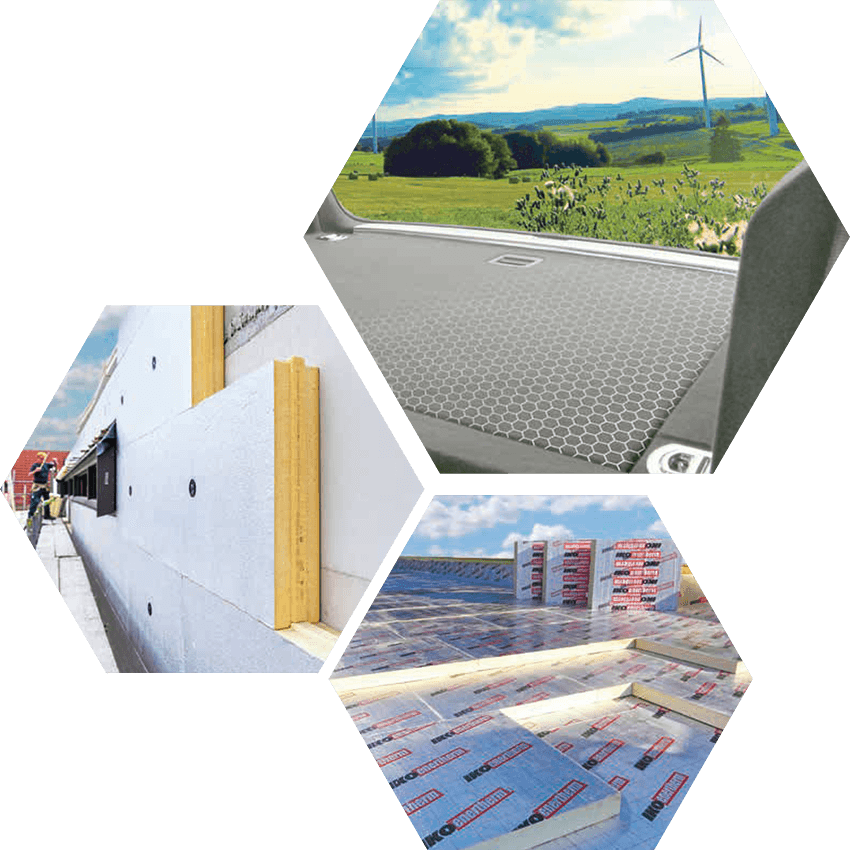 PUR – a material for climate protection
Plenty of polyurethane applications are actively contributing to climate protection; there is hardly any other material that offers such comparatively low heat conductivity as polyurethane foam. Insulating with polyurethane lamination boards or sandwich panels considerably reduces energy consumption in buildings – from tiny houses up to large industrial warehouses. Other typical application areas include insulation solutions for refrigerators, freezers, air conditioning units, truck trailers, and pipelines. The automotive industry, on the other hand, profits from modern lightweight applications based on PUR which help to make vehicles lighter and safer, and in turn boost their fuel efficiency.
Polyurethane applications for large-scale production take center stage here and can be found in nearly every single vehicle – trunk floors, linings, roof modules, seats, springs, and many other interior and exterior parts are manufactured using special PUR processing techniques. These are usually sandwich-style constructions with a core made of paper honeycomb or fiber-reinforced structural components, which are both extremely strong and low weight. Insulation with polyurethane also plays an important role in district heating systems, for example in combined heat and power units. These involve safely transporting hot steam through highly complex, underground pipe networks from the point of origin to the point of delivery, without great energy losses. The pipes are manufactured in a continuous process by injecting PUR foam into a casing pipe or using a spray technique, which provides insulation and protection against external influences. The PUR coating maximizes energy efficiency and at the same time safeguards the pipe against damage.
ENERGY SAVINGS THROUGH 'BLUE INTELLIGENCE'
Under 'Blue Intelligence', Hennecke brings together wide-ranging measures for mechanical, thermal, and hydraulic efficiency. These enable the user to make energy savings of up to 50 percent, depending on the production scenario. This makes a considerable impact, especially with small and irregular production sequences. Besides smart temperature measuring, the set of measures includes an innovative start-stop system that switches the modules that are temporarily required on and off with pinpoint accuracy. Automatically calculated and controlled pump lead times also result in noticeable energy savings with the application. Furthermore, elaborate computer simulations are used to analyze and optimize the fluid mechanics in the metering pumps, injectors and mixheads, increasing their efficiency.
Sustainability is a gain, not a sacrifice
To put it simply: significant resources can be conserved in many places thanks to diverse polyurethane applications with so many positive attributes. The raw materials used in the process are also a crucial factor. Here the raw material suppliers adopt different approaches, such as bio-based polyols using renewable resources, or recycled content polyols that use a chemical recycling process for making flexible foam products. And the production process itself is also key. By inventing highly efficient high-pressure mixing technology, Hennecke has been pioneering innovations for decades.
"From the outset, resource efficiency has been deeply embedded in our DNA," says Thomas Wildt, CEO of the Hennecke GROUP. "Based on economic considerations, the goal of Hennecke technology has always been to produce a consistently high quality with the fewest possible raw materials and without waste. And so, as a result, our economic and ecological objectives coincide." Sustainability in the form of efficient use of raw materials was and continues to be the primary selling point for Hennecke's machine and systems technology, long before the concept ever reached the industry. It is no coincidence that over the decades, Hennecke's resource-saving, high-pressure PUR mixing technology has established itself as the global standard.
Continual development
For all its resource efficiency, however, the high-pressure process itself is an energy-intensive technology. Hennecke is therefore constantly working to improve its machines' energy consumption and continually making new advancements and further savings in this area. The new generation of Hennecke metering machines is a prime example – the Next Generation Metering Machines are highly energy-efficient thanks to innovative technology and digitalization. This involves employing Hennecke's 'Blue Intelligence' (see box) on the one hand and making consistent use of digital possibilities on the other. It includes, for example, using intelligent sensor technology to measure temperature and pressure for monitoring purposes and precision control. A completely new set-up has also been introduced within the control platform to enable operation at different digital levels, including cloud connection and possibilities for remote monitoring. "All the production data can be monitored, controlled and activated as required using the FOAMATIC IoT. This means, for example, that a forklift operator can receive push-notifications when a tank is empty and needs refilling, so that production is constantly running," explains Thomas Wildt. IoT also enhances the area of predictive maintenance, which helps to detect problems and faults in advance, preventing malfunctions at an early stage.
New product line: Environmental Technologies
In time for the K Trade Fair, Hennecke is launching another innovation as part of a new, sustainable product group. The ECOFILLER PLUS gives operators the chance to re-introduce recycled PUR cuttings and waste from their rigid foam production back into the production process. Developed by Hennecke-OMS in Italy together with a cross-sectional team, this product is on offer as an add-on to existing metering units. It is a plug and play system, comprising a modular and compact basic structure that groups together the tanks, the various metering units (liquid, fillers and mixture), as well as the electrical control and management panel. Suitable for the most common rigid foam applications, ranging from sandwich panel production to continuous slabstock production, the ECOFILLER PLUS is the perfect complement to all Hennecke GROUP product lines. "The ECOFILLER PLUS is a real asset both ecologically and economically," says Thomas Wildt, "when you consider that even in highly resource-efficient sandwich panel production, depending on the type and shape of the end product, around 10 percent of the waste generated can now be re-fed back into production."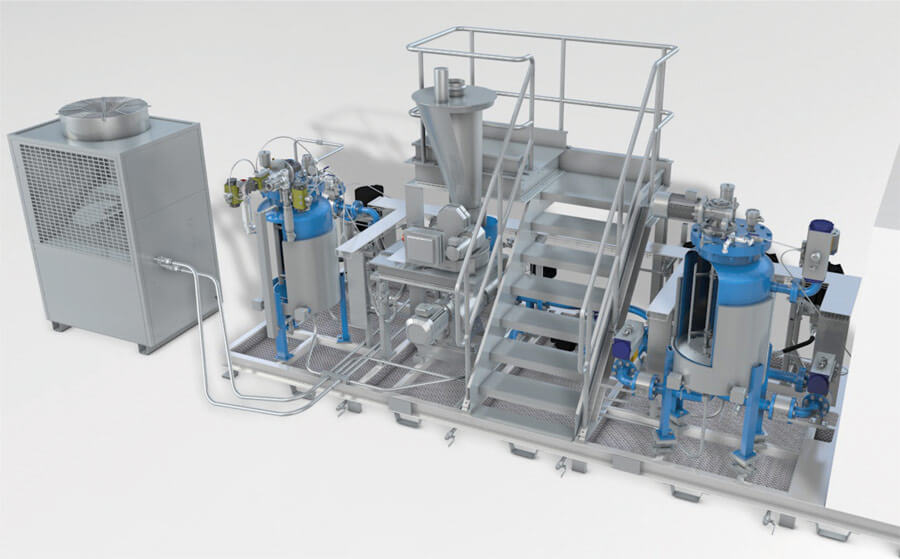 The ECOFILLER PLUS is the first product from the new Environmental Technologies product line and allows cuttings and material waste from production to be recycled.
The PANELMASTER's innovative and highly efficient heating system significantly reduces the energy used by the plant.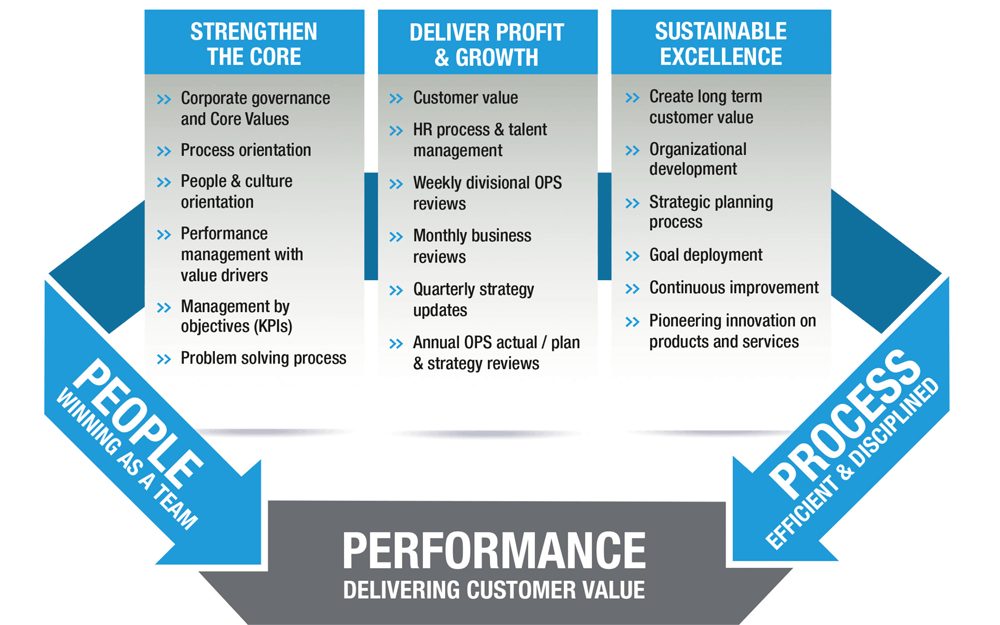 The Hennecke Business System (HBS) was introduced in 2019 and has already proved its worth in the past crisis-ridden years.
Fresh thinking in product development
Sustainable aspects are absolutely fundamental to product development for new machines and systems. This is why the company's evaluation tools such as Business Model Canvas include people and planet along with profit. The environmental footprint of all Hennecke products has also been re-defined. This refers not only to the floor space required by the product, but also includes aspects such as transport and logistics. The last two years in particular have demonstrated that a reduction in the machine's floor area makes a real difference, as now two metering machines can be shipped in a container instead of just one. "And last but not least, the extremely long service life of Hennecke products makes a double contribution to sustainability," says Thomas Wildt. "On the one hand, the operators save on raw materials in their production, and on the other hand, they benefit from a long life cycle." Furthermore, Hennecke's retrofit packages provide their customers with crucial technological updates throughout the machine's entire service life.
Sustainability for future security
Most people think of sustainability in terms of climate protection and energy saving. However, operating a business sustainably also involves forward-looking planning and long-term stability. This gives security not only to the company but also to its customers. Anyone investing in a Hennecke metering machine or entire production line can be assured that the company is customer- centered in the long-term, and that its service and retrofit measures will still be available in years to come. As part of the transformation to 'Hennecke 2.0', Thomas Wildt introduced the Hennecke Business System (HBS) in 2019, aiming to create an agile and self-learning organization.
The managers and staff of the entire Hennecke GROUP have been trained using process mapping and standardized problem- solving processes to ensure that all projects and services are provided on schedule to the utmost quality standards. This transformation has begun with great success! The system has already proven its worth during the COVID pandemic. "In contrast to industry trends, we did not have to lay-off any staff, and we emerged from the crisis a profitable company without relying on government loans. Despite the current geopolitical upheavals and insecurities, our customers, banks and investors have complete trust in us," says the Hennecke GROUP CEO. Thomas Wildt has every reason then to be confident about the future. Of one thing is certain – in the next 75 years, Hennecke will remain the first point of contact for resource-saving PUR applications.
---
Download - Issue 122 (PDF)
You will need Adobe® Reader® that you can download here for free.