Innovations in slabstock production
Slabstock foams have become an integral part of daily life and are used whenever cushioning and insulating qualities combined with low weight are important – such as in the 'comfort' segment for mattresses and furniture, or in the 'technical foam' sector, for example for diverse applications in the automotive industry. Although the basic principles of slabstock production have barely changed over the past decades, the demand for high standards in terms of quality and specific properties has constantly grown. Issues such as energy efficiency and raw material savings have become paramount, especially in recent times. As the world leader in continuous slabstock production lines, Hennecke is constantly developing new products and innovative solutions to give its customers even better quality, and to simplify operation and optimize production processes.

Below we present five innovations that have been specially developed for continuous slabstock production lines. Good to know: these are not only available for newly purchased lines, but can also be retrofitted as an ideal upgrade to existing slabstock lines through Hennecke's 360°SERVICE team.
FOAMWARE:
NEW PLANT CONTROL WITH GREAT ADDED VALUE
One almost radical development is the user interface via the FOAMWARE control system which replaces the previous process data recording system. Impressive features include the new high-performance hardware, diverse functions, intuitive user navigation, a multitude of standard tools as well as useful plug-ins and additional options. The free-standing operating console with a new generation SIMATIC Quad Core industrial computer and 32-inch UHD monitor provide ergonomic working conditions and an excellent overview of the entire production process. A printer, uninterruptible power supply, air conditioning unit and remote access router for online support are also integrated. The software affords a clear display of all relevant production data as well offering extensive calibration modules, and tank level monitoring. The data can be individually selected and displayed in separate windows using both linear and logarithmic scales. In addition, process data from the last 300 production runs can be retrieved and compared using an innovative process diagram. A noteworthy highlight is the 'magic eye' function, which recognizes and immediately presents metering deviations and irregularities during operation. Foamers also benefit from a database module that stores information about the mixtures and chemicals and provides active support to adjust and create new formulations. A third-party interface is used to import and export the data and to connect to the customer's own network or, for example, a goods management system, or to communicate with SAP.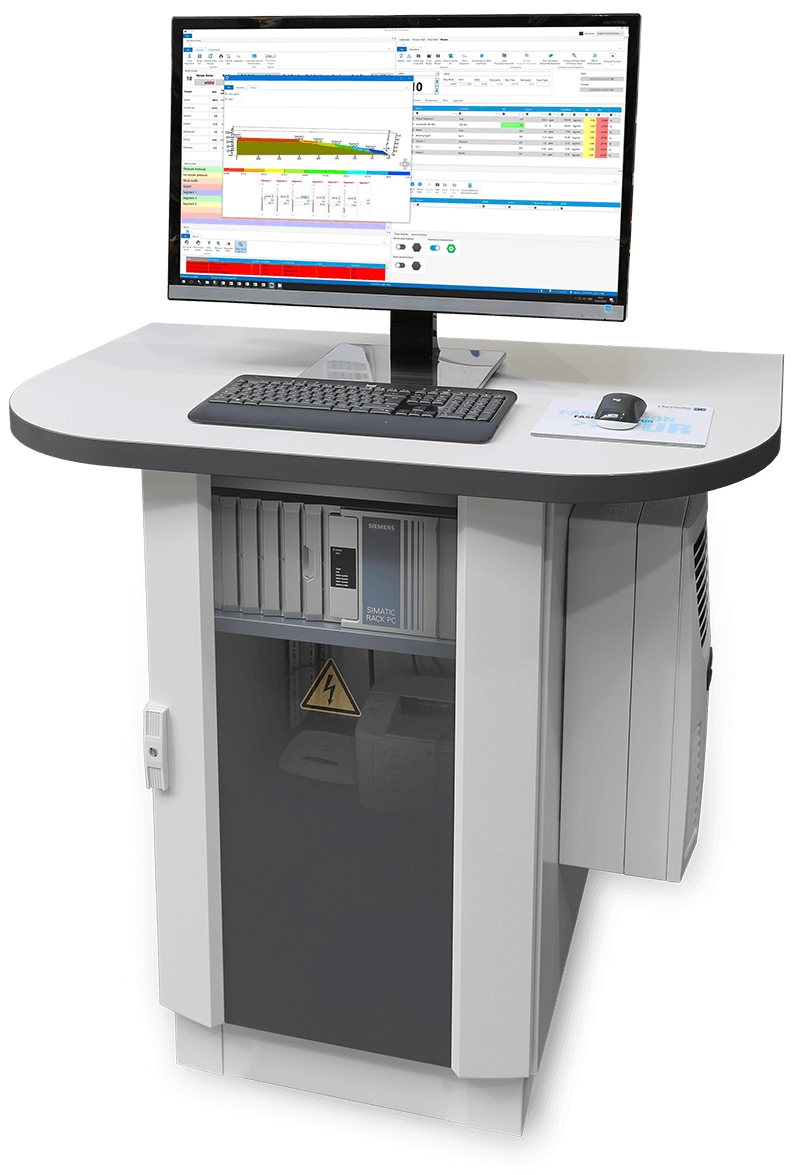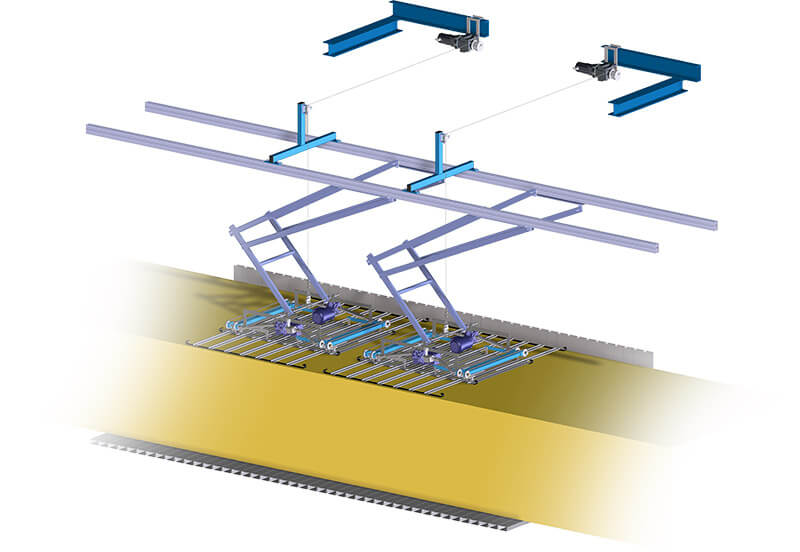 FASTER PRODUCTION START WITH
AUTO-FLAT
A uniform and even top skin means not only better quality but also less waste, and consequently fewer raw materials are used. Hennecke's well-established solution is the FLAT-TOP system, which has been given another big upgrade through the AUTO-FLAT, making the set-up process considerably easier. The 5-point, fully automatic guiders are controlled by sensors to regulate the pressure from the mats on the top side, whilst servo drives ensure their perfect positioning. These state-of-the-art force sensors make sure optimal pressure is exerted. Even automatic width adjustment is provided as an option. All this gives the foamer a range of advantages: greater reliability from the high level of automation, greater stability and better reproducibility in production – because all the formulation settings are stored in the computerized system. In addition, when starting or stopping production and changing the formulations, less staff are needed for making manual adjustments in the foaming tunnel – also a huge plus point in terms of workplace safety and quality. Each individual mat can be easily operated and monitored with the AUTO-FLAT plug-in to the FOAMWARE control system – either manually, semi-automatic, or fully automatic, as required.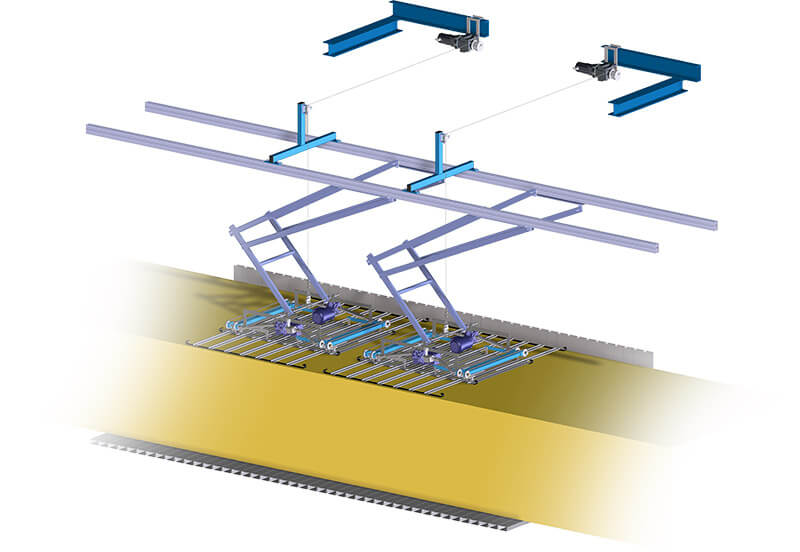 RISE PROFILE MEASURING
FOR THE TOUGHEST DEMANDS
The rise profile measurement system, developed as a valuable addition to satisfy the toughest demands for consistently high-quality production results, is a combination of laser distance sensors with a FOAMWARE plug-in. The rise profile measurement is activated automatically when the machine starts, recording the rise profile with six laser sensors and displaying the information via the software. A further twelve optional sensors also detect the block height during the process. This information is immediately compared to the reference curves stored in the formulation, allowing the operator to adjust the process parameters if there are any deviations. These may be caused by fluctuations in the ambient temperature or the chemical temperature, changes in the weather, an incorrect mat weight or if the plant has heated up during start-up.
"All these new features can be retrofitted to existing systems through our 360°SERVICE."
Markus Häsler,
Service Sales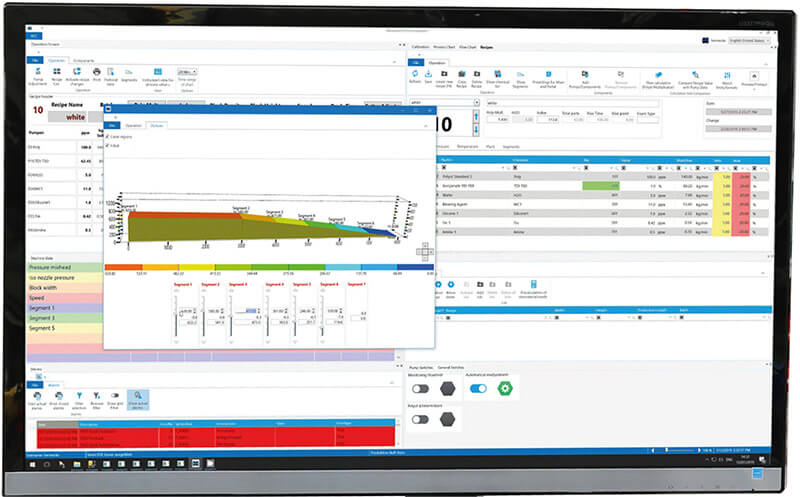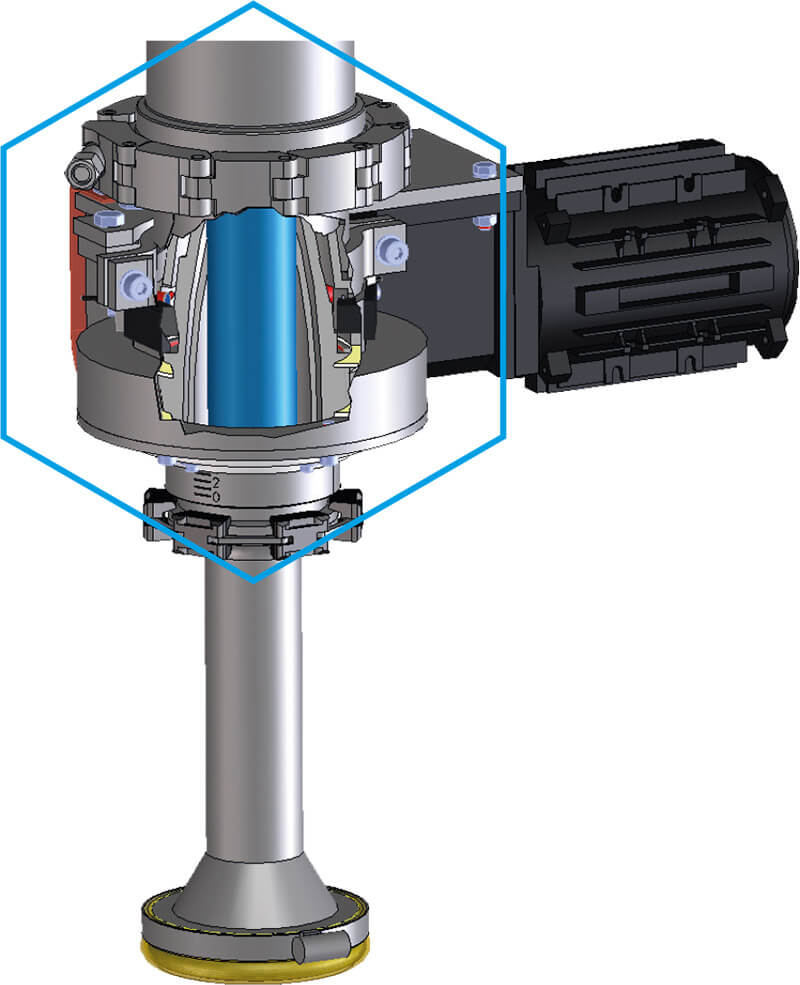 SIGNIFICANTLY FEWER PINHOLES WITH
SPOUT-EX
Hennecke has invented another innovative way of improving quality using the SPOUT-EX. A significant reduction in the number of pinholes in the foam has a huge impact on product quality, especially in foams with fine cells. Pinholes are caused by air bubbles trapped in the raw materials which have not been successfully eliminated in the previous mixing process. Through extensive flow simulations, Hennecke has now found a solution – the SPOUT-EX, an effective extension to the mixing chamber of the MSL stirrer mixheads. Its innovative design has resulted in foam production with 50 to 70 percent fewer pinholes. Thanks to its plug and play installation, the SPOUT-EX can be easily fitted to existing MSL stirrer mixheads in only a few minutes.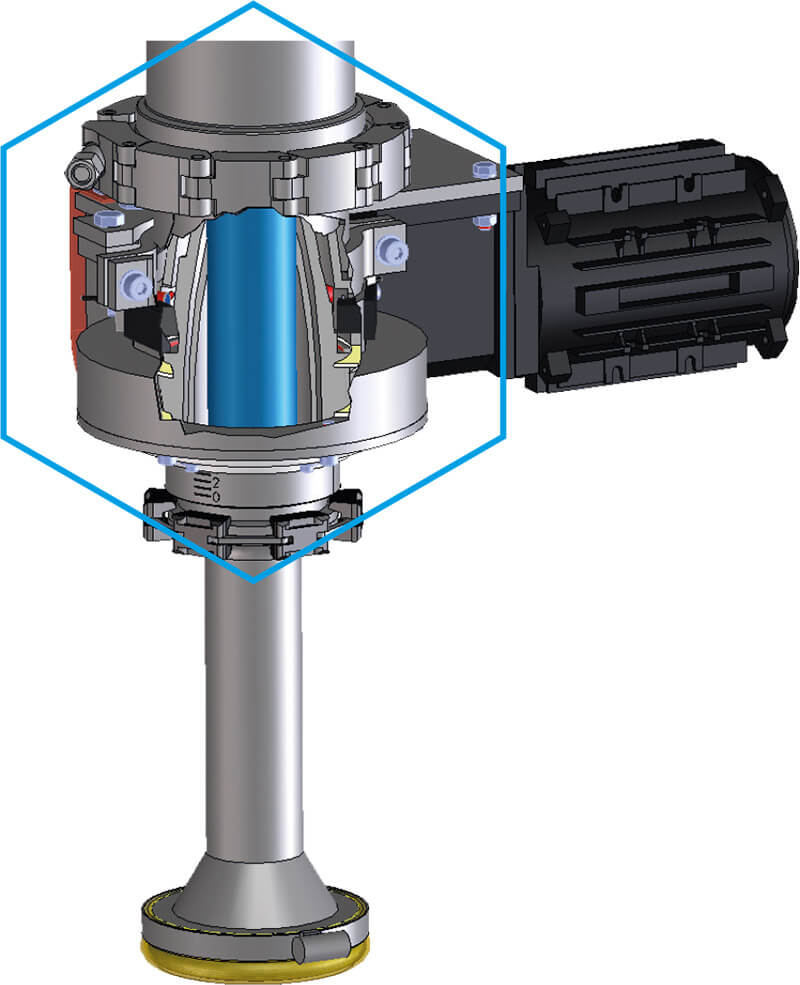 CONSISTENT PRODUCTION CONDITIONS AND QUALITY WITH THE
GAS CONTROL STATION
Uneven gas distribution in the raw materials, for example due to transportation, presents a huge challenge to producers. Especially in the automotive industry or for technical products, consistent production conditions are essential for creating consistent quality – a particular difficulty for foams with a coarse cell structure. One option to help control the cells is to allow the raw materials to settle after transport, so that they can degas themselves. However, this requires long and costly waiting times. Hennecke's GAS CONTROL STATION solves this problem – the isocyanate is firstly degassed to some degree using a vacuum pump and is then pumped into an intermediate tank. Here it flows over a bed of columns packed with sintered material, which is used to fully extract the remaining gas through its coarse porous surface area. The degassed isocyanate is pumped off and fed to the metering pump via a pre-pump. Now the exact amount of gas required for the formulation can be added using Hennecke's iso gas loading system. Both pumps interact with a sensor to ensure a constant filling level in the tank. The GAS CONTROL STATION therefore offers uniform and reproducible high-quality foam and enables the chemicals to be deployed quickly after delivery.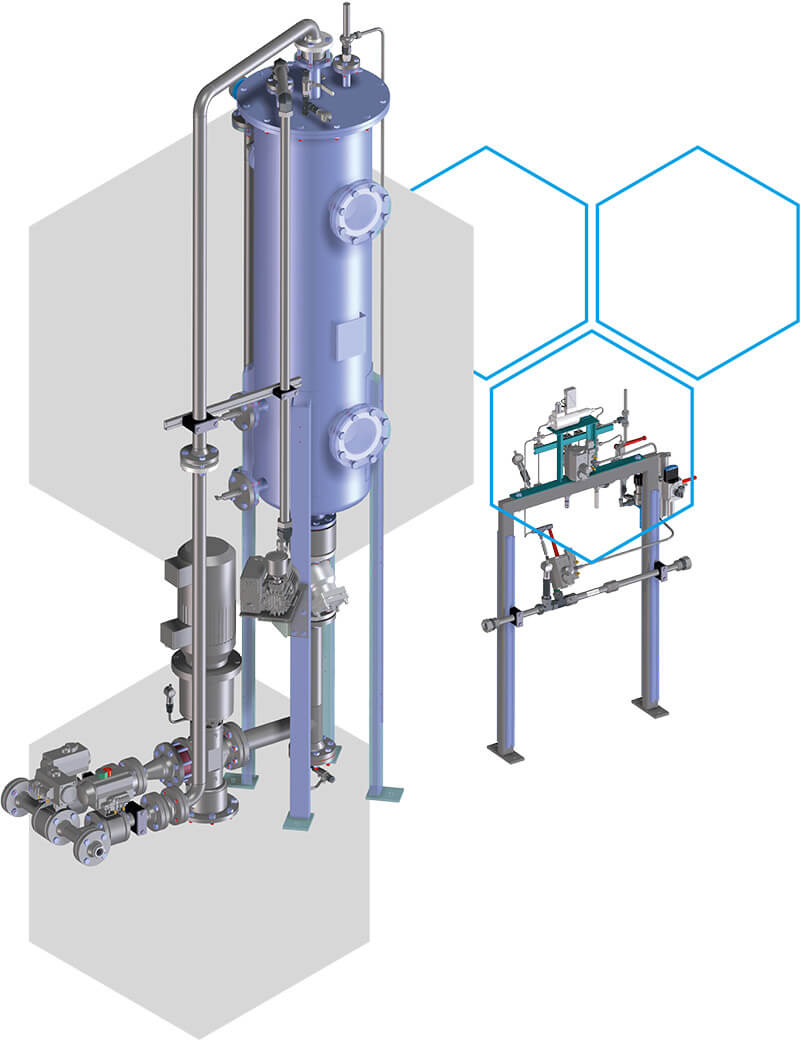 ---
Download - Issue 122 (PDF)
You will need Adobe® Reader® that you can download here for free.