The next evolutionary step in elastomer casting
Hennecke's new ELASTOLINE HP avoids material and solvent losses during production whilst opening up brand new possibilities in processing
The ELASTOLINE low-pressure metering machines for elastomer casting have been an established, state-of-the-art product range for decades. However, low-pressure processing has one distinctive disadvantage: for technical reasons, material and solvent losses occur during the pre-shot and flushing shot stages of the production process. Furthermore, it is virtually impossible to fill a closed mould using a low-pressure stirrer mixhead. Thanks to Hennecke's new ELASTOLINE HP high-pressure elastomer casting machines, these processing disadvantages are a thing of the past.
When it comes to processing polyurethane-based casting systems and raw materials, the name ELASTOLINE is synonymous with high-quality end products. Low-pressure ELASTOLINE machines reduce the amount of manual work involved, improve industrial hygiene and streamline operational processes. The high-quality design of all assemblies ensures that these system benefits continue to be reaped in the long-term, even in harsh production environments. Hennecke already offers two different types of customized ELASTOLINE low-pressure metering systems: one for MDI and TDI raw material systems (ELASTOLINE F), and one for Vulkollan® or NDI raw material systems (ELASTOLINE V). The compatible low-pressure MEL mixheads are supplied with hydraulic injector control for extremely short and synchronous switching cycles. They ensure that the processor achieves superior formulation constancy.
The parts produced with these systems can be divided into solid and cellular elastomer products. Compact polyurethane elastomers are suitable for a variety of moulded parts, high-quality wheels and rollers and also semi-finished products for mechanical processing. These parts are used when maximum abrasion resistance as well as mechanical and physical strength are important. In contrast, due to their excellent material properties, the polyurethane elastomers with a micro-cellular structure are used when considerably greater deformation and lower compression hardness are required compared to the solid elastomers. Up to now, elastomer processors have suffered from material losses during production of these parts - such losses are unavoidable in low-pressure processing for technical reasons.
At production start, the mixhead must be overfilled for the pre-shot in order to dispel air from the mixing chamber and set the so-called stoichiometric mixture ratio despite the different viscosities. At the end of production, the mixh ead is completely full with material and needs to be emptied and rinsed to prevent the elastomer reaction mixture from curing in the mixer. The concluding flushing shot is different for each system.
Production without material loss
The major advantage of high-pressure metering with the new ELASTOLINE HP is that material and solvent losses are avoided during production. The exact material quantity required for the production run is mixed in a high-pressure mixhead. The amounts involved in the mixing chamber volume are by no means trivial: material savings through the use of high-pressure technology can add up to a five or six-figure Euro sum per year, depending on the production scenario! As well as saving costs, the high-pressure concept also contributes to sustainability and environmental protection by conserving resources. Furthermore, high-pressure elastomer processing effectively eliminates the formation of aerosols at the workplace; these usually arise when rinsing the low-pressure mixhead. Extraction and disposal of aerosols is not necessary, meaning of course that less work is involved and costs are lower.
Elastomer processing using high-pressure machines has not been possible up to now. Thanks to decades of experience in developing and manufacturing low and high-pressure metering machines, Hennecke is the expert in elastomer high-pressure processing with high-precision and continuous temperature control. Elastomer processing often requires extremely high temperatures which must be strictly maintained in the entire metering system, from the tanks and hose lines to the mixhead. Through advances in high-pressure mixing technology, Hennecke has brought the ELASTOLINE HP to the market, with a selection of mixheads that efficiently convert the delivery pressure in the processing of highly viscous media into mixing energy. Thanks to a sophisticated mixing chamber geometry for optimized turbulence and the arrangement of the injectors in a double V shape, it is now possible to process materials and mixing ratios that could only be handled using the low-pressure process in the past.
Another huge advantage of the ELASTOLINE HP is that it enables elastomers to be processed in closed moulds. These moulds also have many benefits which include multi-cavities, functional integration and over-moulding. With the help of the ELASTOLINE HP, they too can now be used for elastomer processing. On the one hand, this option arises of course from the omission of the pre-shot and flushing which is determined by the system; on the other hand, filling a cavity using a low-pressure stirrer mixhead would simply not be possible due to the resulting back pressure. Hennecke has already placed several elastomer production plants using closed moulds with prominent customers. In addition, the compact design of the ELASTOLINE HP's high-pressure mixhead means that it can be mounted on to a mould at almost any angle or on to a closed mould. And this opens up completely new possibilities and further savings potential in the production of elastomer parts. Low-pressure systems were initially also used for classic polyurethane processing. They ensured process stability compared to the common manual mixing. The first high-pressure metering machines developed by Hennecke in the 1950s quickly became the standard in polyurethane processing due to all their benefits. The market launch of the ELASTOLINE HP marks the next evolutionary step.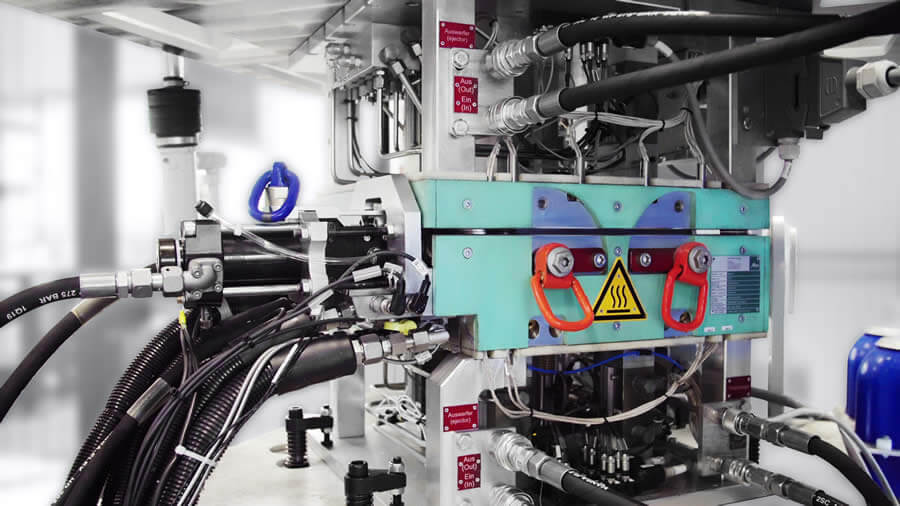 Completely new possibilities with the ELASTOLINE HP: Processing of elastomer systems in closed moulds
Intuitive and ergonomic
The operational concept of the ELASTOLINE HP includes exclusively high-quality components which have been designed with userfriendliness in mind. Such as the sophisticated 12-inch latest generation touchscreen panel, which is not located in the control cabinet, but is placed in the work area, providing ergonomic benefits to the user. Complex processes are depicted in a logical and simple manner thanks to the user-friendly visualization which also assists the user in the event of a fault.
As a standard feature, the ELASTOLINE HP is equipped for the metering of two components plus an optional additional component. Three types of mixhead enable mixture discharges of 10 cm³/sec up to 600 cm³/sec. The efficient temperature control allows for a component processing temperature of 45 °C - 100 °C. Other versions are also available on request.
At Hennecke's in-house TECHCENTER, a three-component ELASTOLINE HP is ready and waiting to give elastomer producers the chance to optimize their existing production processes with the new technology, or to develop entirely new products or production processes. Hennecke customers can rely on support from experienced application engineers.
---
Download - Issue 119 (PDF)
You will need Adobe® Reader® that you can download here for free.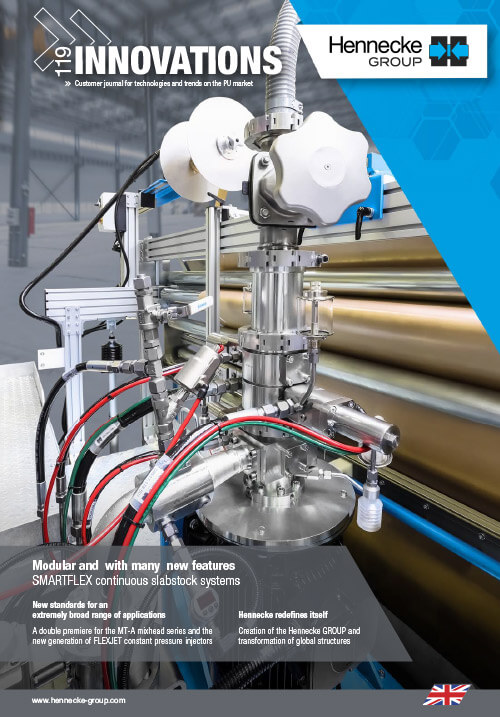 Elastomer casting machines