On-site service from dedicated PU experts
New exclusive Hennecke GROUP sales agent for the UK and Ireland
On 1st April 2019 CTM UK Ltd. became the exclusive agent for the entire Hennecke GROUP product range in the UK and Ireland and is now offering a comprehensive range of services that focuses on the machine and systems technology portfolio of Hennecke Polyurethane Technology and HENNECKE-OMS.
CTM UK Ltd. is located in northern England in the town of Barnsley, South Yorkshire. The company's team of specialists provide competent on-site advice on all aspects of PU production and on the extensive product range of one of the leading global suppliers of machines and systems for polyurethane-based applications. CTM has 14 key personnel on hand including experienced engineers, PLC programmers for software support and electrical engineers for electrical support.
Besides the company's long-standing PU experience, expertise and technical knowledge, CTM provides customers with easy access to all-new stock replacement parts from Hennecke and HENNECKE-OMS, to Hennecke GROUP's on-line remote support services and to all future system enhancements. In short, CTM offers a complete and ongoing service with solutions for all aspects of PU handling and production, all from a single source. For more information about the sales and after-sales portfolio of CTM, visit www.ctmukltd.com.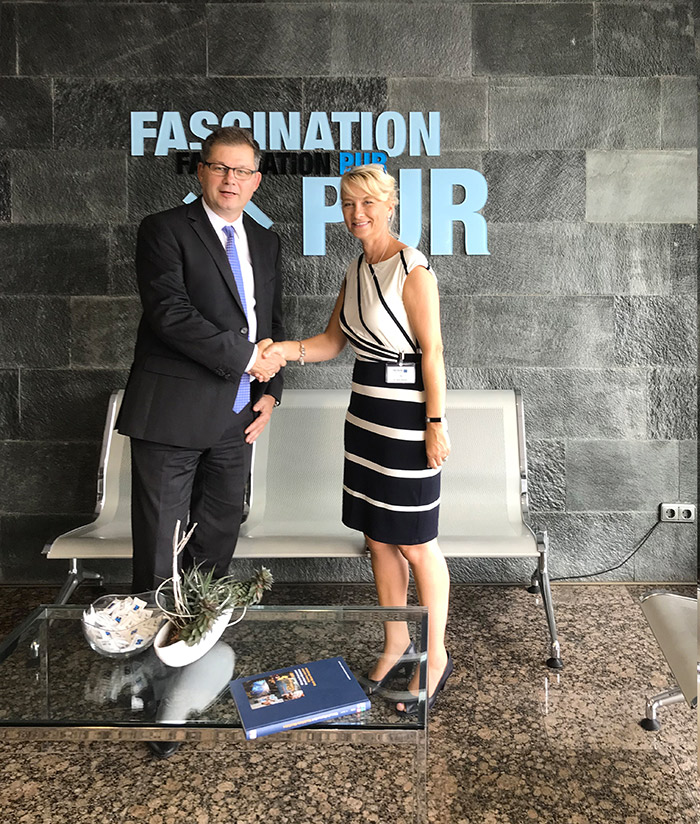 CTM Managing Director Ruth Wootton and Rolf Trippler, Managing Director Sales of Hennecke GmbH, at the contract signing in Sankt Augustin.
---
Download - Issue 119 (PDF)
You will need Adobe® Reader® that you can download here for free.